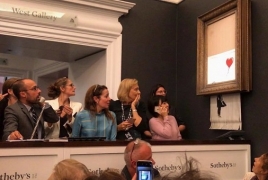 October 6, 2018 - 14:17 AMT
PanARMENIAN.Net - It was typical Banksy, leaving the audience wondering whether he was making a serious point about the impermanence of supposedly timeless art or just poking fun at them. Or both, Telegram says.
Whatever the motivation, when a painting by the street artist which had just been sold for more than £1 million was then shredded into small strips it left the crowd of buyers at Sotheby's gasping.
On sale at the London auction house on Friday night was a framed print of Girl With Balloon, one of Banksy's most widely recognised works, showing a girl reaching towards a heart-shaped balloon
But moments after the hammer had gone down on a sale price of £1.042m a shredder installed within the frame cut the print into narrow strips.
Posting a picture of the moment on Instagram, Banksy gave his own comment on the stunt, writing: "Going, going, gone..."
The piece, first drawn by Banksy on 2006, was shown dangling in pieces from the bottom of the framet.
"It appears we just got Banksy-ed," said Alex Branczik, Sotheby's senior director and head of contemporary art in Europe.