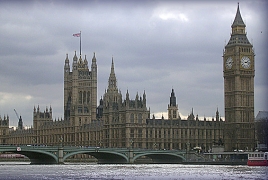 October 11, 2018 - 13:13 AMT
PanARMENIAN.Net - The first target of new British powers to combat the proceeds of suspected corruption is the wife of a jailed Azeri banker who spent more than 16 million pounds ($21 million) at department store Harrods, London's High Court has revealed, according to Reuters.
An anonymity order was lifted after Zamira Hajiyeva, the wife of the former chairman of Azerbaijan's largest bank, last week lost an appeal against an attempt by authorities to seize two properties worth about 22 million pounds using an Unexplained Wealth Order (UWO).
The onus is now on the owner to show that any asset worth more than 50,000 pounds was obtained by legitimate means, rather than for police to have to prove it was obtained illegally.
Hajiyeva's husband Jahangir Hajiyev, who was chairman of state-owned International Bank of Azerbaijan (IBA) from 2001 to 2015, was convicted by an Azeri court in 2016 of fraud and embezzlement and sentenced to 15 years in jail.
The Azeri finance ministry said about $3 billion could have been misappropriated by Hajiyev, who denied the charges.
Lawyers for Hajiyeva, who denies any wrongdoing, said that Hajiyev was convicted after a show trial and the circumstances of the case did not meet UWO requirements. They did not respond to requests for comment.
The case is a test for UWOs, which came into effect earlier this year with the aim of forcing foreign officials suspected of corruption and their families to account for their wealth and make it easier for authorities to seize property and assets.
Britain's National Crime Agency (NCA) successfully applied for an UWO in February against Hajiyeva after demanding she reveal the source of her wealth or risk losing the properties.
Last week, judge Michael Supperstone rejected Hajiyeva's appeal against the UWO although her lawyers said they would take the case to London's Court of Appeal. Supperstone also ruled that Hajiyeva's name, which previously could not be disclosed, could be made public on Wednesday, October 10.