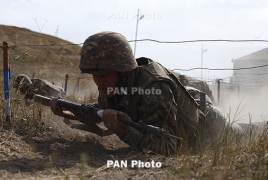 October 13, 2018 - 16:50 AMT
PanARMENIAN.Net - On October 12, according to Army Forces preparation plan, the final stage of military shooting organized within joint military exercises of Armenian and Russian Army Forces took place in RA AF training centre after Marshal Baghramyan, reports the Information and PR Department of Ministry of Defence.
The topic of the military exercises, which started on October 8, was: "Bringing military units and subdivisions to combat readiness level. Reinforcing RA state border protection, using air defence forces and means, preparing and maintening a defence battle".
As a result of harmonious actions of RA AF and RF AF involved in the joint combat which was led by General-Mayor Tigran Parvanyan, the conditional opponent was thrown back and the front line was restored. All the planned and unplanned events were fully implemented.
Unmanned aerial vehicles, intelligence-specific groups, various firefighting measures, self-propelled artillery systems, heavy armament and aviation were involved in the large-scale shooting exercise.
The aim of the military training was to improve the practical skills of coordinating regiment and battalion commanders, ensure harmony in actions of the members during subdivision management, bringing combat to readiness level and maintaining a defence battle.