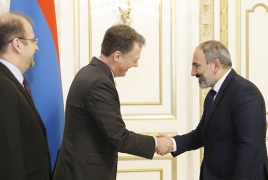 October 15, 2018 - 22:10 AMT
PanARMENIAN.Net - USA is ready to support Armenian government to make reforms in the country. The statement was made by the U.S. Deputy Assistant Secretary of State for European and Eurasian Affairs, George Kent during his meeting with Armenian Prime Minister, Nikol Pashinyan.
PM Pashinyan welcomed Kent to Armenia stating that this is a good opportunity to discuss the agenda and development of mutual relations and cooperation for two countries.
George Kent stated that he is very happy to visit Armenia during the period of changes in the country and that US gives a great importance for further development of mutually beneficial cooperation with Armenia.
PM talked about the political developments in Armenia stating that the country is steadfastly moving forward towards the way of democracy which is an internal belief and value for our society and not a foreign policy orientation. The head of government also talked about the consistent work in the fight with corruption as well as the initiated reforms in different fields.
Deputy Assistant Secretary stated that the government of US is interested in the development of democracy, progress in economy as well as in other priority fields in Armenia. He also stated that US is ready to assist Armenia in making these reforms, reports the press service of the Prime Minister.
During the meeting, the sides also exchanged thoughts about Nagorno Karabakh conflict settlement, the current international situation, regional challenges and list of other issues.
Earlier it was reported that Assistant to the President for National Security Affairs (NSA) of USA, John Bolton will be travelling to Armenia. The aim of his visit was stated to be "advancing American interests on a range of security issues". This will be a regional visit as Bolton will also be visiting Russia, Azerbaijan and Georgia. "On October 20th I'll be travelling to Russia, Azerbaijan, Armenia, and Georgia to meet with my counterparts and other senior officials to advance American interests on a range of security issues", stated Bolton in his message.