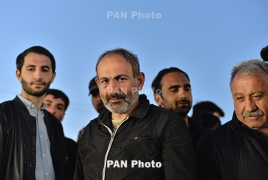 October 17, 2018 - 00:55 AMT
PanARMENIAN.Net - US prestigious Foreign Policy journal wrote about internal political developments in Armenia after the Velvet revolution. The article titled "Armenia's Post-Revolution Party Is Over" states that the country's new government wants to root out corruption—but the ancien régime isn't giving up without a fight.
The article also told about loud disclosers and arrests of corruption cases by National Security Service after the Revolution including the case of General Manvel Grigoryan and RA second President Robert Kocharyan accused in the case of March 1.
"Pashinyan has done more than rock the boat; he's vowed to redraw the entire social and political structure of corruption-ridden Armenia. The question now is whether the country's ancien régime will leave without a fight", states the article highlighting also the multi thousand crowds which gathered in front of the Parliament building on October 2 after Pashinyan made his announcement.
According to the article, an early vote initiated by Pashinyan "could well worry Republican Party politicians, who stand to lose control over a key institution".