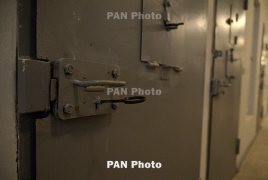 October 17, 2018 - 00:59 AMT
PanARMENIAN.Net - Court of General Jurisdiction of Yerevan has conditionally released life imprisonment, Karen Oganesyan, reports CivilNet.am. According to Oganesyan's lawyer, Mihran Poghosyan, the court has set a 10-year probation period.
Life imprisonment, Karen Oganesyan has been in Nubarashen Penitentiary Institution for 21 years. He was sentenced to life imprisonment for a murder of two in the USA in 1997. Back then Oganesyan was 22 years old. Earlier, a positive conclusion was given on the conditional release of Karen Oganesyan.
In 2015, a similar case happened in Armenia when life imprisonment, Soghomon Kocharyan was released due to an incurable disease. However Oganesyan's case is unique, as he is released conditionally; his positive behaviour was taken into consideration while making the decision.