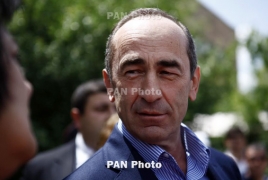 October 18, 2018 - 18:47 AMT
PanARMENIAN.Net - Second President of Armenia, Robert Kocharyan is planning to form own party and operate in the field of opposition. Kocharyan announced about these intentions during his interview with RIA Novosti.
"If you return to politics you need to think about that", said Kocharyan answering the question of whether he is planning to form own party.
According to the ex-president, the name of the party is not the most important principal. "The most important principals are the approaches which are needed to be adapted… Currently I see a serious gap in the field of opposition and I think that there is a need to fill it for the benefits of the country", stated Kocharyan.
Kocharyan also stated that he is not aiming at taking a very important position in the government. "If I had such a desire, I wouldn't have lived with my private life for 10 years. Situation has such developments that they involve you back to the process which you cannot ignore due to biography, temperament, and vitality reasons", continued the ex-president.
Talking about not participating in the upcoming early parliamentary elections he stated that he simply cannot be on time. "I have not belonged to any party. That means that I need to form a new party from the scratch instead of restoring something that had existed before. Above all I wish to go for the elections with a new and fresh team. Usually what are the first actions when you decide to create a new team? You look at the people whom you know, the people around you and the people you have already worked with", said Kocharyan.
However, according to him, considering the current situation, there is a need to involve new, talented, young and energetic individuals. "Surely there will be people from the old team, whom you know and with whom you already worked with. But meanwhile you need to lean on the representatives of the new generation, and that is not an easy task, you need time for that", stated Kocharyan.
Earlier it was reported that the second President of Armenia, Robert Kocharyan thinks that early parliamentary elections may result political monopoly in the country."In tactical terms this is an understandable behaviour; success now - at the peak of democracy. In terms of strategy I see some issues- as a politic you benefit but as a statesman you should still think if it was worth to do it now",