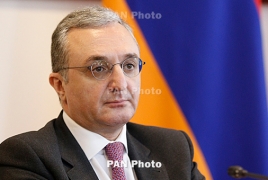 October 22, 2018 - 18:13 AMT
PanARMENIAN.Net - On October 22, the Acting Minister of Foreign Affairs, Zohrab Mnatsakanyan presented the position and approaches of Armenia in resolving the Karabakh conflict to Rudolf Michalka, the Special Representative of the OSCE Chairperson-in-Office for the South Caucasus.
Zohrab Mnatsakanyan congratulated Rudolf Michalka on the appointment of such a responsible position and wished good luck in implementing the mission.
Zohrab Mnatsakanyan highlighted that Armenia gives great importance to the formation of an atmosphere of security and peace emphasizing that international partners of Armenia should refrain from all those actions that may result arms races in the region and increase dangers of instability.
Acting Minister reconfirmed the commitment of the Armenian side to the peaceful settlement of the conflict within the framework of the OSCE Minsk Group Co-Chair. Rudolf Michalka presented own agenda and planned steps in the position of Representative of the OSCE Chairperson-in-Office for the South Caucasus.
The sides commented on the developments in the region and exchanged ideas regarding prospects of cooperation with the Office of the Special Representative.
Followed by Michalka's request, Mnatsakanyan also talked about the recent developments of internal politics in the country stating that based on the broad mandate of the people, the government continues the reform process aimed at fighting corruption, strengthening the rule of law and justice, ensuring equal conditions in social and economic spheres.
The Acting Minister of FA reconfirmed the mission of the Armenian authorities to organize early elections according to international standards. Here he highlighted the importance of cooperation with OSCE ODIHR and other international organizations, reports the Press Service of MOF.
Earlier during the solemn opening of the Yerevan International Symposium, Armenia's Prime Minister, Nikol Pashinyan stated that Nagorno Karabakh should have a decisive voice in the peaceful negotiation process. He stated that the conflict contradicted Nagorno Karabakh, which implements its self-determination right for more than 25 years, and Azerbaijan, which refuses discussions with the elected representatives of Karabakh.