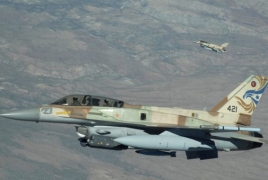 October 25, 2018 - 17:29 AMT
PanARMENIAN.Net - Israeli warplanes allegedly struck 8 sites belonging to Palestinian resistance organizations last night, following a retaliation rocket attack from Hamas, Al-Masdar News reports.
The Israeli Regime's Military has announced the attack against 8 areas in the Gaza Strip late last night, following what they claim was three Hamas rockets, launched into Israel.
Contrary to the claim's of the Israeli Military, the "flare-up" however, was not a product of Gaza's aggression. During the day, Israel also launched unprovoked airstrikes against infrastructure belonging to Hamas, in both the areas of Rafah (Southern Gaza) and Beit Lahia (Northern Gaza).
The three rockets fired into Israel, all fell into open fields. Israel claims to have shot down one of the rockets, while the other two fell into open area's.
Following the rocket fire, Israel sent reconnaissance to fly at low altitudes in Gaza, in order to torment the civilian population.
There were no deaths or serious injurious injuries.