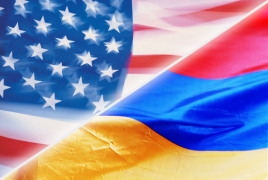 October 25, 2018 - 18:38 AMT
PanARMENIAN.Net - U.S. national-security adviser John Bolton has said that the Trump administration wants to "look at" possibilities of weapons sales to Armenia that would not violate restrictions the U.S. Congress has imposed.
Bolton made the remarks in an interview with RFE/RL on Wednesday, October 25 after he met in Yerevan with Armenian Prime Minister Nikol Pashinian.
"We have restrictions Congress has imposed on the United States in terms of [weapons] sales to Azerbaijan and Armenia because of the [Nagorno-Karabakh] conflict, but there are exceptions to that," Bolton explained.
"As I said to the prime minister, if it's a question of buying Russian military equipment versus buying U.S. military equipment, we'd prefer the latter," he said.
"We think our equipment is better than the Russians' anyway. So we want to look at that. And I think it increases Armenia's options when it's not entirely dependent on one major power."
He also said Armenia's "excellent" prospects for becoming a "stable democracy" are "really fundamental to Armenia exercising its full sovereignty and not being dependent on -- or subject to -- excessive foreign influence."
Bolton also noted that a large community of Armenian-American citizens in the United States makes the "prospects for closer economic cooperation" with the U.S. private sector "very real" and "much better for the long term than government-to-government assistance."
"I think this is a time to be optimistic that Armenia can emerge more on the world stage," Bolton said, stressing that the Trump administration "considers the South Caucasus a very important area strategically" and that improving relations with Armenia is "a very high priority."