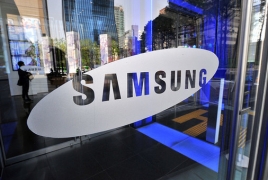 October 26, 2018 - 13:42 AMT
PanARMENIAN.Net - Samsung Electronics Co. is overhauling its line-up of premium phones for next year, preparing to launch its first 5G-capable smartphone, a cheaper flagship model and a foldable-screen device to challenge Apple Inc. and stay ahead of Chinese rivals, people familiar with the matter said, according to Bloomberg.
The Suwon, South Korea-based company is in talks with Verizon Communications Inc. to launch its Galaxy S10 in the U.S. with a fifth-generation wireless chipset, said the people, asking not to be identified because products are still under development. The goal is to secure support from the biggest U.S. carrier to popularize the technology, which is designed to transfer data dozens of times faster than the fourth-generation networks in use now.
Samsung has embedded a fingerprint sensor under the display of its S10, overcoming years-long challenges of mass-producing such a device, the people said. The world's biggest phone maker will launch three versions of the flagship model, including a more affordable version to appeal to the widest range of consumers, they said.
While Samsung already has a line-up of cheaper "A" models, the move signals the company shares Apple's concern over Chinese rivals such as Huawei Technologies Co. and Oppo that continue to win customers by offering premium models at lower prices. Samsung is also rushing to complete development of a bendable device that it hopes will let it dominate a niche market with potential to grow.
"If you think about how Samsung can differentiate itself and compete in this market, it's with hardware," said Cliff Maldonado, an analyst at BayStreet Research in San Francisco. "That's what their forte is, and their foldable phone is about positioning and branding."
The standard S10, codenamed "Beyond," features an OLED screen curved on both sides, round-shaped corners and almost no bezel at the top and bottom, the people said. It will be about the same size as the current 5.8-inch S9 model. The S10 has triple cameras on the back while the front camera is visible and tucked under the screen, the people said. Samsung also plans a bigger "plus" version for next year.
The cheaper version of the S10 lacks the dual-curve "edge" screen that has been a hallmark of Samsung's premium phones since the Galaxy Note Edge in 2014 and may come without a fingerprint sensor under its display depending on costs, they said.
Samsung is also toying with an S10 prototype without a headphone jack, indicating that it may follow Apple in going completely wireless with its devices. The S10 will come pre-loaded with Google's Android Pie operating system, they said.
"We're continually evolving our smartphone portfolio to provide our customers with new and exciting innovations and experiences. At this time, we don't have anything to share about future devices. Please stay tuned," Samsung said in a statement.