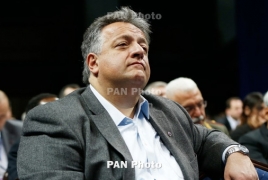 October 29, 2018 - 12:53 AMT
PanARMENIAN.Net - Moderna Therapeutics created by Armenian-American entrepreneur, venture capitalist Noubar Afeyan, is among the 10 most successful startups in the United States, founded by immigrants.
With a company value of $7 billion, Moderna Therapeutics is a biotechnology company that is focused on drug discovery and drug development.
A new study has found that 55% of the most successful new corporations in the United States were founded by modern-day American immigrants.
According to the study by The National Foundation for American Policy, 50 out of the 91 startups valued at over $1 billion in the U.S. had at least one founder who was an immigrant to the country.
The 50 companies included in the study are worth a combined $248 billion.
Afeyan was born to Armenian parents in Lebanon. At 13 he moved to Canada with his family, before later moving to the U.S. Afeyan earned his Ph.D. at 24 and went on to help found 38 companies including biotechnology company Moderna Therapeutics with Canadian immigrant Derrick Rossi.
After raising funding and grants for its work, including one early grant in 2013 from the Defense Advanced Research Projects Agency (DARPA) to develop mRNA drug technology to fight infectious diseases and biological weapons, the value of Moderna rose to $5 billion by 2017.
Besides Moderna Therapeutics, also among the U.S. billion-dollar companies with at least one immigrant founder with the highest valuations are Uber, SpaceX, WeWork, Palantir Technologies, Stripe, Slack and others.
Afeyan is also the co-founder of the Aurora Humanitarian Initiative and the Aurora Prize for Awakening Humanity, an annual international humanitarian award, which is initiated to recognize and express gratitude to those courageous individuals or organizations that impact on preserving human life and advancing humanitarian causes. It is awarded on behalf of the survivors of the Armenian Genocide and in gratitude to their saviors.