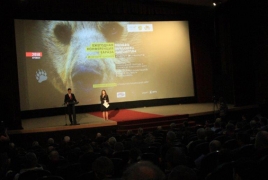 October 30, 2018 - 12:37 AMT
PanARMENIAN.Net - The 2800-year old capital of Armenia, Yerevan, is hosting a discussion of the importance and the role of zoos in the field of wildlife preservation and reintroduction.
The international conference of Eurasian Zoological Gardens and Aquariums (EARAZA) is organized and coordinated by the Foundation for the Preservation of Wildlife and Cultural Assets (FPWC), under the umbrella of the Armenian Ministry of Nature Protection and the Yerevan Municipality.
The long-time partner of FPWC, VivaCell-MTS continues to support the FPWC in organizing the conference as the environmental and corporate social responsibility remains an important part of projects, supported by VivaCell-MTS.
"Each of us can get necessary information about a certain field, study it, learn it, get trained and become a specialist. It is a matter of choice and desire. There are, however, some matters, that oblige us to be more responsible towards nature. Being a civilized, caring inhabitant of the planet Earth is not a matter of choice, that's our responsibility. For a simple reason that we all live on this planet and need to pass on not just a place standing on the edge of an ecological disaster to the next generation, but a well-preserved, protected and a green world," said VivaCell-MTS General Manager Ralph Yirikian.
Every year, the EARAZA gathers delegates and directors of the zoos from CIS and European countries. The conference is being held in Armenia for the first time, having brought together more than 130 delegates, representing 80 zoological gardens and environmental organizations.
At the annual conference, the participants discuss the achievements and progress of the field, international partnerships and prospects of future cooperation. This year representatives of major zoos, such as those of Tokyo (Japan), Magdeburg (Germany) and Warsaw (Poland), will be joining the conference.
The topic of the discussion is the importance and the role of zoos in wildlife preservation and reintroduction, and particularly, the strategic directions for the development of zoological gardens, wildlife conservation programs and more. One of the key topics of the conference will be dedicated to the issue of wildlife trafficking, along with the exchange of experience and knowledge in the preservation of the rare and red-listed species.
Within the framework of the conference, the delegates will also visit the Yerevan Zoo, get acquainted with implemented works and discuss the prospects of cooperation.