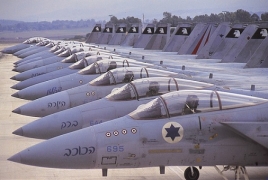 November 3, 2018 - 14:22 AMT
PanARMENIAN.Net - Iran's Air Force has possesses about a few dozen strike aircraft, either Russian planes or US models obtained before the 1979 Iranian revolution, Al-Masdar News says.
Iran has started the mass production of a fourth-generation domestically-manufactured interceptor jet in a major step toward the renovation of its Air Force, state television reported.
"Soon the needed number of this plane will be produced and put into service with the Air Force," Iranian Defense Minister Amir Hatami stated at a ceremony launching the plane's production.
The production of each Kowsar jet would save the country about $16.5 million, according to the Defense Ministry's Public Relations Department.
"Today, we declare proudly that we spare no effort in obtaining peaceful defensive technologies to defend our national security, the values of the Islamic Revolution, and the boundaries of our country," Hatami noted.
Earlier in November, the US government stated it would re-impose of all sanctions on Iran starting on November 5, comprising Iran's shipping, financial and energy sectors.
Following the US decision to withdraw from the Iran nuclear deal, also known as the Joint Comprehensive Plan of Action (JCPOA), and re-impose anti-Iranian sanctions, Tehran is striving to develop domestic production of arms and military equipment.
In August, the Iranian Defense Minister displayed the country's first domestically produced Kowsar fighter and stated that the Iranian Navy was for the first time equipped with a locally made ship-to-air missile system.