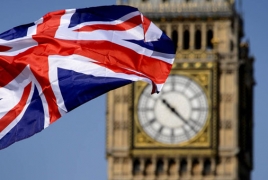 November 5, 2018 - 13:15 AMT
PanARMENIAN.Net - The banker's wife at the centre of a McMafia-style financial investigation has had hundreds of thousands of pounds worth of jewellery seized from an auction house where it was being valued ahead of a sale, The Telegraph says.
Zamira Hajiyeva, 55, is currently the subject of the UK's first Unexplained Wealth Order (UWO) case, amid allegations that she used stolen money to fund an extraordinarily lavish lifestyle.
Her husband is the former chairman of the state-owned International Bank of Azerbaijan, and was sentenced to 15 years in jail in 2016 for defrauding the bank out £2.2bn.
Last month it was revealed Hajiyeva, who lives in Knightsbridge, west London, had spent more than £16 million at the nearby Harrods department store.
She has denied that the source of her wealth is illegal and is challenging the UWO in the courts.
But earlier this week investigators from the National Crime Agency (NCA), who are looking into her financial background, seized almost 50 items of high value jewellery from Christie's auction house.
Among the items were a Boucheron sapphire and ruby necklace valued at up to £120,000.
Investigators also seized a Van Cleef & Arpels pearl necklace which was valued at £20,000 despite having originally been purchased her husband, Jahangir Hajiyev, in San Moritz in 2008 for £280,000.
The NCA said it had seized the items because investigators believed that the source of the money that had been used to buy them warranted further examination.
Earlier this week a district judge at Westminster Magistrates Court said the NCA could hang onto the items for six months to allow further investigation to take place.
The items were seized from Christie's auction house in London, where they were being valued for Zamira Hajiyeva's daughter, Leyla Mahmudova.
The NCA said Christie's auction house had co-operated with the investigation and had complied with a formal request for information regarding the listed assets.
Hajiyeva, who has lived in the UK for more than a decade, is the first person to be the subject of a UWO, which were introduced in an effort to clamp down on people laundering cash in Britain.
As well as spending more than £16 million in the Harrods department store over a ten-year period, Hajiyeva owns a five-bedroom house worth £15 million and also bought the Mill Ride golf and country club in Ascot for £10.5 million.
She is also said to have owned a £35 million private jet and had a wine cellar stocked with some of the world's most expensive vintages.
Her husband worked for the state bank in Azerbaijan between 2001 and 2008 when his salary was estimated to have been around £54,000 a year. Despite this, at the time of his arrest his wealth was estimated to be in the region of £55 million.