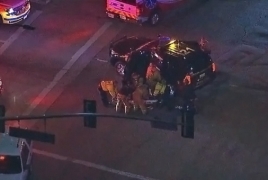 November 8, 2018 - 13:00 AMT
PanARMENIAN.Net - Police were responding to reports of a mass shooting that left at least six people injured, including a deputy sheriff, Wednesday, November 7 night at a bar in California packed with college students and others, The Los Angeles Times reports.
Authorities said the scene at the Borderline Bar & Grill was still "fluid" and urged the public to stay away. Officials could not immediately confirm if there were fatalities.
One law enforcement official, speaking on the condition of anonymity, said that at least 30 shots had been fired and that there are casualties.
Ventura County Sheriff's Department responded to reports of shots fired ar the bar 11:20 p.m. When the deputies arrived, they exchanged gunfire with a suspect and one of the deputies was wounded. It's not known if the gunman is in custody.
The FBI's Joint Terrorism Task Force had been dispatched to the scene.
Aubrey Ryan, 27, of Newbury Park, was in the front of the restaurant with at least 15 friends when a man came in and started shooting at the ceiling.
The gunman shouted something but Ryan could not hear what he said. A friend threw her onto an outdoor balcony as the gunfire rang out so she could escape, said Ryan, who feared some of her friends were still inside the bar.
Another witness at the scene, who refused to give his name, said someone ran into the bar around 11:30 p.m. and started firing what appeared to be a black pistol.
"He shot a lot, at least 30 times. I could still hear gunshots after everyone left," the man said.
Law enforcement and emergency crews were flooding the scene, and authorities were urging the public to avoid the area.
Along Moorpark Road, lines of police cars and ambulances were visible.
Borderline is a country music bar that hosts live music events. An event aimed at college students, which was open to students 18 and older was scheduled to take place this evening, according to the bar's website and Instagram page.
Pepperdine's student newspaper also tweeted that students from the campus were believed to be in the bar at the time of the shooting.