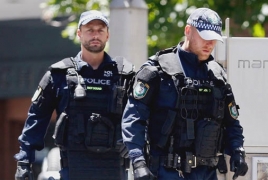 November 9, 2018 - 12:04 AMT
PanARMENIAN.Net - One person has been stabbed to death on a central Melbourne street where a knife-wielding man was left in a critical condition after being shot by the Australian police, News.com.au says.
Two other people are in hospital after being stabbed in a busy Bourke Street on Friday afternoon.
"Three people have been stabbed, unfortunately one is deceased at the scene, two other victims are currently in hospital," police Superintendent David Clayton told reporters at the scene.
Photographs from Bourke Street show a white sheet covering a body, with a bare foot protruding.
One witness said a man was stabbed in the face.
Footage from the scene shows a man swinging a knife at two uniformed officers near a burning car before he was shot.
"(Officers) were confronted by a male brandishing a knife and threatening them," Supt Clayton said.
"At the same time, passers-by were calling out that members of the public had been stabbed. Police shot the male in the chest and he is now in a critical condition under guard in hospital."
Police are not looking for anyone else in relation to the events.
"There's no known link to terrorism at this stage. We'll keep an open mind as to whether there's any link. It's very early in the stages of the investigation," Supt Clayton said.
Ambulance Victoria confirmed three people were injured.
"One person has been taken to hospital with a neck injury. They are in a suspected critical condition," they said.
"A second person has been taken to hospital with a head injury. A third person has also been taken to hospital."
Police initially responded to reports of a vehicle on fire at the corner of Bourke and Swanston streets. The dual cab Rodeo ute was quickly extinguished.
Markel Villasin, 22, was finishing his shift at KFC on Bourke St as the drama unfolded.
"Me and the managers ran out and that's when we saw the car on fire and then we saw the guy on the floor and we wanted to help, there were two blokes helping him out already, he was face down pools of blood around his face," he told AAP.
"I'm pretty sure he got stabbed in the face.
"I really wanted to help but I was in shock, I didn't know what to do.
"Because he was on his stomach, they turned him over to see if he's alright, he was still alive."
Bystander Drew Hair told AAP he was walking on Swanston Street when he heard an explosion.
The next thing he saw was a "big dude punching into the police car".
Hair said the assailant was dressed in Islamic clothing and of African appearance and about six foot four inches tall.
"The cops were trying to hit him with batons and he wasn't going down," he said.
Hair said two civilians became involved as well as two police, trying to stop the man from his attack.
The area is cordoned off and people are asked to avoid the area.
Police want to hear from people who witnessed the event or captured footage as they piece together what happened.