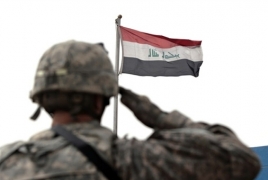 November 12, 2018 - 17:22 AMT
PanARMENIAN.Net - Baghdad has been in constant contact with Washington over anti-Iran sanctions which were put into effect as of November 5, Iraqi president told a press conference in Kuwait, according to IRNA.
Iraq is not to act as a mediator between Iran and the U.S., but expects that Iraqi conditions will be observed in sanctions case, Barham Salih told reporters.
Salih said that he does not want his country to make loss on the sanctions.
After Washington's May 8 exit from the Iran Deal, the U.S. gave 90- and 180-day wind-down periods to other countries before it starts re-imposing oil sanctions on Tehran on November 4.
However, after the start of re-imposition of anti-Iran sanctions on November 5, U.S. did grant Iraq the 45-day waiver over Iran sanctions to import gas and electricity, but not to pay in dollars.
U.S. sanctions against Iran sparked negative reaction across the world as many countries openly expressed dissatisfaction over the issue.
Meanwhile, the United States declared that China, India, Italy, Greece, Japan, South Korea, Taiwan and Turkey are allowed to import Iran's oil for only a limited-time period.
Most observers believe that sanctioning Iran's oil for a long-term period will hike up the oil price and weaken [US] dollar in the international arenas, which will ultimately lead to the US defeat and its withdrawal from its unilateral decisions.