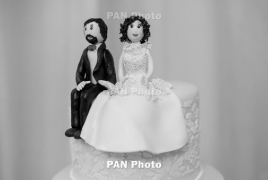 November 12, 2018 - 14:22 AMT
PanARMENIAN.Net - Marriage makes you healthier because your spouse encourages you to get good insurance and regular check-ups, new research shows, according to The Daily Mail.
Gay and lesbian couples are the best at equally encouraging one another to go to the doctor, the study found.
When it comes to heterosexual couples, women are the ones encouraging their husbands to look after their health (usually in 'coercive ways'); few men do the same for their wives.
The research by Ohio State University highlights how marriage benefits the population at large, but suggests work is needed to get heterosexual men thinking about their health and their partner's health.
The study was led by Dr Corinne Reczek, associate professor of sociology at Ohio State, who has spent years investigating how family dynamics, gender and sexuality can impact health.
Her team conducted in-depth interviews with 90 midlife gay, lesbian, and heterosexual spouses to find out if and how they encourage one another to get health check-ups.
'Our findings demonstrate the ways spouses are central to supporting and coercing one another to obtain medical care and how these patterns are gendered,' the authors said.
Encouraging one another to get check-ups is more essential in the US than many other developed countries, since there isn't universal healthcare and the saturated market of insurance plans can be confusing.
Being in a family, and discussing the conundrum, makes that easier.
But it's clear that dynamics are skewed.