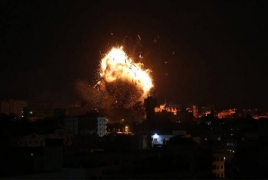 November 14, 2018 - 13:16 AMT
PanARMENIAN.Net - Palestinians were filmed celebrating after Israeli forces suffered significant blow during their Gaza attack, Al-Masdar News says.
Palestinian celebrators filled the streets of Gaza, after what has been considered a tremendous win for Palestinian resistance.
After an Israeli violation, of a newly brokered ceasefire, a new round of hostilities broke between Gaza and Israel. Various nations, including Russia, Turkey and Jordan, spoke out in condemnation of Israel's provocations.
Israel had attempted to kidnap a leading member of Hamas's Al-Qassam brigades, but failed. The failure of their co-vert mission, resulted in the killing of an Israeli commander and the retreat of the special forces team, from Eastern Khan Yunis, where they had infiltrated.
Following this, the Israeli air force carried out a series of airstrikes in the Khan Yunis area. The result of the airstrikes, was the murder of a total of 7 Palestinians that night.
Hamas later responded, with a barrage of rockets, which within the space of 48 hours, exceeded 470. Israel struck at least 100 targets in Gaza, over Monday night alone.
Hamas targeted their rocket launches, away from Israel's most densely populated cities. At least 150 Israeli settler families fled their homes, multiple Israeli buildings and cars were also damaged.
According to the Gaza Health Ministry, separate reports indicate that at least 12 Palestinians, have been killed over the past 48hr period. One Israeli man (40 years old), died after a rocket hit a building and collapsed on him. 80 Israeli injuries were also wounded.
Israeli airstrikes targeted and destroyed a number of civilian sites, including the Al-Aqsa TV building, Al-Amal Hotel and civilian housing blocks in the densely populated Gaza City. Also damaged by Israeli airstrikes, was the Gaza college of applied science and several mosques.
Wafa Al-Udaini, a Palestinian journalist, based in Gaza City, said on the bombings that "Israeli warplanes bombed a 5-story building that housed my son's kindergarten and a restaurant where I used to regularly buy falafel".
Despite the destruction, Gaza still celebrated, following the ceasefire. Israeli's however, took to the street calling on their government to continue the violence, ironically burning tires, covering their faces and throwing stones.