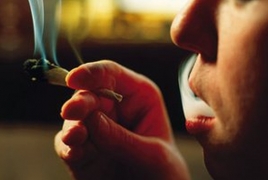 November 14, 2018 - 14:17 AMT
PanARMENIAN.Net - Smoking a joint could improve the memory of Alzheimer's ­sufferers, scientists have found.
The chemical that makes people feel high destroys rogue brain ­proteins behind the illness, The Sun says.
The "sticky plaques" which kill neurons and cause memory loss were reduced by a fifth in tests on mice with Alzheimer's injected with pot's active ingredient THC.
After six weeks of therapy they performed as well as healthy peers on a simple test - remembering where a shallow area of a small pool was located.
The promising results add to growing evidence that cannabis may lead to the development of drugs that target the cause of dementia, rather than the symptoms.