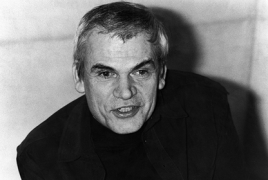 November 14, 2018 - 17:53 AMT
PanARMENIAN.Net - TheCzechprime minister, Andrej Babiš, has offered to restore the exiled writer Milan Kundera's citizenship almost 40 years after the country's communist regime stripped him of it, The Guardian reports.
Kundera, author of some of the 20th century's most acclaimed works of fiction, was expelled from the communist party for "anti-communist activities" in 1950. He became a hate figure for the authorities and eventually fled Czechoslovakia for France in 1975. In 1979, his Czech citizenship was revoked by the government: he became a French citizen two years later. His works – from The Unbearable Lightness of Being to The Book of Laughter and Forgetting – were banned in his homeland until the late 80s.
This weekend, Babiš met the novelist and his wife, Vera, in Paris, where Babiš was attending a commemoration of the centenary of the 1918 armistice.
According to a post on his Facebook page, Babiš met the Kunderas at their apartment, then spoke with them for three hours at their favourite restaurant. "It was a great honour for me," Babiš wrote, describing Kundera, who will be 90 next year and is often cited as a contender for the Nobel prize in literature, as a "legend of Czech, French and world literature".
"The conversation was driven by Mrs Kundera, an incredibly energetic lady … I think they deserve the Czech citizenship they lost after emigrating," he wrote, later telling the Czech CTK news agency – according to Agence France-Presse – that "he really deserves to have his citizenship again".
Babiš said he had invited the Kunderas to visit the Czech Republic, which he said the novelist has not visited for 22 years. Czech reports suggested that Kundera's response to Babiš was "non-committal". Babiš said the couple had expressed the hope that the procedure would not require "too much paperwork".