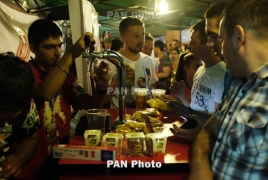 November 16, 2018 - 13:46 AMT
PanARMENIAN.Net - The Western Cape in South Africa may soon become the first province in the country to legally allow the sale and consumption of alcohol at school functions, after the controversial School Education Amendment Bill was passed in the legislature, IOL reports.
The bill was rejected at public hearings earlier this month.
Despite being rejected by members of the ANC, EFF, ACDP and members of the public, the bill will now move on to a second reading debate in the legislature before it's passed.
Education MEC Debbie Schäfer said the bill constitutes the biggest public education reform since 1994, designed to achieve excellence in education.
However, these views were not echoed by an opposing parliamentary member.
"It's the most ill-conceived bill I've ever seen. It's a shebeen bill we're looking at today. The alcohol bill was rejected in public participation.
"It gives me pain to stand here and try to reason with a regime that wants to bring alcohol to schools.
"The standing committee chair gave the green light to the bill which is shocking. What this means is public meetings is a check box because the public rejected it," said ANC member Roland Olivier.