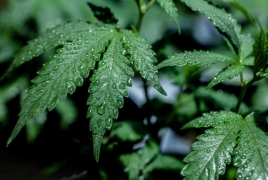 November 17, 2018 - 12:03 AMT
PanARMENIAN.Net - Marijuana is getting its time in South Africa's spotlight after being decriminalized in September, Voice of America says.
The landmark constitutional court ruling, which still needs to be translated into law, allows South Africans to legally grow and consume their own cannabis at home.
The ruling explicitly forbids dealing in marijuana products, meaning if you don't already have it, you can't buy or sell it.
But the buzz around this long-forbidden plant is sparking a slew of pot-themed products on South African shelves.
Poison City Brewing released a popular cannabis-infused beer right after the court ruling.
"We sold out of our first batch of stock within 10 days of its release, and at the moment we brewed 100,000 liters for the next batch, which we've sold out already, so we've doubled that to 200,000 liters for the next batch. So it's absolutely incredible," said sales manager Natasha Nkonjera.
None of these store-friendly products contain tetrahydrocannabinol, or THC, the chemical that causes marijuana's "dazed and confused" effects, which is still considered a prohibited narcotic.
Cannabis advocate Connor Davis released a hemp-infused gin through his family distillery, Monk's Gin. He says these novelty drinks are just the start of pot products in South Africa.
"There are over 100,000 products that can come from cannabis," he said. "The industrial benefits of it — I mean, you can build an entire house from cannabis alone. From the insulation to the actual brickwork to your carpeting, to your linen, everything can be made from hemp. So that has incredible potential."
South Africa — with its sunny and temperate weather and rich, arable land — has long been one of the world's top growers and exporters of illegal cannabis.
But, with the change in law, the government's Department of Trade and Industry is now studying the economic potential of the plant.
Davis says he believes the cannabis industry can help address South Africa's severe unemployment rates.
"The statistics we have been comparing, from the United States to South Africa, potentially, immediately from day one, we've got at least 200,000 jobs to be given in the cannabis industry," he said.