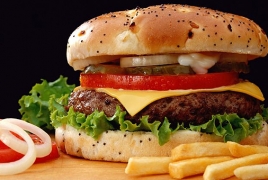 November 19, 2018 - 14:52 AMT
PanARMENIAN.Net - A groundbreaking new study out of Otago has revealed a new connection between smell and obesity, proving a "strong link" between a person's weight and their sense of smell, Newshub says.
Lead author of the study, Otago University's Dr Mei Peng, says the link between smell and people's body-shape was previously a relatively unknown area of scientific knowledge.
"After compiling our evidence, we found there is in fact a strong link between a person's body weight and their smell ability - the better a person can smell, the more likely the person is to be slim, or vice versa," Dr Peng says.
Of the five senses, Dr Peng says she considers smell to be the least understood; but at the same time says it is perhaps the most important sense for influencing eating behaviour through detecting and discriminating between different flavours.
"We found obese people's ability to detect and discriminate smell was not as efficient as slim people's. This can result in obese people having a higher chance of making poor food choices because they will need other forms of stimulation to enjoy food," she explains.
"For example, they might choose - or be more attracted to - saltier and tastier foods such as bacon and maple syrup instead of blander foods such as low-fat cereal with less sugar."
The study says this leads to another area of consideration about two surgical obesity treatments; stomach removal, and gastric bypass. The research found stomach removal can actually improve smell ability, whereas other obesity surgeries do not have the same effect on people's smell ability.
"Cutting the stomach could change nerves in the stomach that affect the gut-brain pathway, so smell changes could be the key to the difference between the two surgeries. Essentially, the smaller size of the stomach might not be the factor that leads to weight loss; it is more likely due to the gut-brain pathway being reset," Dr Peng says.