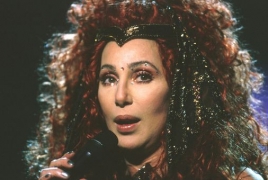 November 20, 2018 - 13:02 AMT
PanARMENIAN.Net - Music icon Cher discussed her life, love and unexpected success with Elle in an interview published Monday (Nov. 19), amid the new Broadway musical "The Cher Show".
The iconic singer, who has Armenian roots, looked back at her career spanning several decades, going from one half of Sonny and Cher in 1965, to her own comedy show, her solo career and more. Her cheeky personality and laid-back style also made Cher one of the boldest fashion icons, dazzling in endless Bob Mackie creations covered in beads, bright colors and almost no coverage.
"To be cute and pretty back then, you had to have a turned-up nose and lots of blond hair," Mackie tells Elle. "But Cher is an amazing-looking girl. She can look like anything. She loved getting dressed up, and nothing intimidated her. By the end, people were turning on the [Cher] show just to see what she was going to wear."
If that's not impressive enough, Cher has also won awards as an actress, including an Emmy, an Academy Award and many others. "Moonstruck was when she showed how completely effortless her fully rounded talent was -- funny, heartbreaking, inimitable -- no one else could've done it that way," Meryl Streep tells Elle of Cher's Oscar-winning performance in the 1987 film Moonstruck. "She owned that part. She jumped out of the screen. It was like we'd been waiting for her, and round the corner she came: 'Yeah, and I can do this, too!'"
It's hard to imagine fitting such a multifaceted career and vibrant character into one show, but writer Rick Elice (Jersey Boys) and director Jason Moore have taken up the challenge, working closely with the icon to create a musical that is as accurate as it is entertaining. The Cher Show outlines her lifetime of achievements, from aspiring actress to international superstar. "I'm fussy 'cause it's my story," Cher says to Elle. "I want it to be honest and right and funny and sad, like my life."
When asked about how following her instincts has always led her to huge career-defining moments, she replied: "It doesn't always -- look, I've had huge failures in my life. Huge dips and 'Oh, you're over. You're over.' This one guy once said, 'You're over' every year for I don't know how many years. And I just said to him, 'You know what? I will be here when you're not doing what you do anymore.' I had no idea if I was right or wrong. I was just tired of hearing him say it."