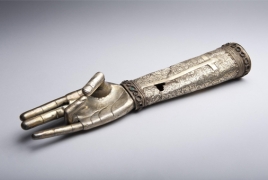 November 21, 2018 - 11:43 AMT
PanARMENIAN.Net - Town officials and community members came together to celebrate the opening of a new gallery at the Armenian Museum of America, Watertown Wicked Local reports.
The gallery, "Armenia: art, culture, eternity," showcases nearly 3,000 years of Armenian history, from ancient Urartu to present-day Armenians in America.
More than 50 objects are on display, everything from a 20th-century pair of a child's leather shoes, to an 18th-century Kütahya vessel. The museum's new executive director Jennifer Liston Munson is the mastermind behind this project.
The Armenian Museum's Board of Trustees appointed Munson in March 2018. Before this, she had collaborated on many projects and exhibitions with the museum and worked as a senior member of the exhibitions and designs department at the Museum of Fine Arts. This is her first gallery opening as executive director.
In this gallery, Munson said she wanted to highlight objects in small vignettes to describe a variety of topics important to Armenian culture such as the early adoption of Christianity, the invention of a unique Indo-European alphabet and language, traditions in textiles, metalwork and Kütahya ceramics, the tragedy of the genocide, and how Armenians made their way to the United States to become part of the fabric of American life.
"We are telling this story through the objects that we have in the collection," Munson said.