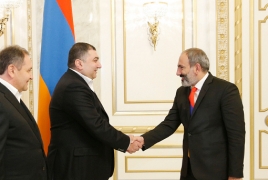 November 21, 2018 - 18:43 AMT
PanARMENIAN.Net - Acting Prime Minister Nikol Pashinyan on Wednesday, November 21 met Armen Harutyunyan, the head of Beltekhnika, a Lithuanian company engaged in the production of agricultural equipment.
At the meeting in Yerevan, the sides discussed issues related to Beltekhnika's initiative to implement an investment project for the production of agricultural machinery such as tractors in Armenia.
Reaffirming the Armenian government's interest in implementing the proposed investment project, Pashinyan said it will generate new jobs in line with his government's drive for providing favorable conditions for investors.
Harutyunyan said they are going to produce modern farm equipment, affordable for local farmers, part of which will be exported to the European market.
The new plant will be created on the basis of the former Hayelectromash factory. $5-7 million will be invested in the first stage, followed by an additional investment of $10-15 million. Harutyunyan said his team will start working on its implementation as early as December 1, 2018.
The first plant's annual output capacity is 3,000 tractors. The second plant will increase the output by additional 5,000 tractors. Nikol Pashinyan welcomed the initiative and expressed confidence that it was going to be a success story.