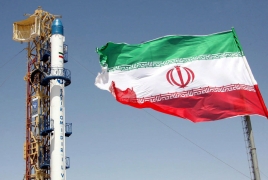 November 22, 2018 - 13:27 AMT
PanARMENIAN.Net - It seems that the European Union and the three European signatories of Iran nuclear deal are determined to safeguard the deal, the deputy foreign minister of Iran said, according to IRNA.
"The French party reiterated that though there are differences about Iran's missile program and regional policies, the principal stance of French President [Emanuel Macron] is not to bound commitment to keep Iran Deal with other bilateral issues," Abbas Araqchi said commenting on the new round of Iran-France political talks.
Araqchi said, "We welcomed the idea and added that strengthening the defensive power is an inevitable necessity for Iran in the path of implementing the policy of deterrence; developing the power is a part of Iran's security and potential threats to the country."
Stating that the talks were useful to help the parties understand each other's stances, he said that France has come up with new innovations for Special-Purpose Vehicle and trading with Iran.
"The main topic was Iran Deal and the commitments of the Europeans; however, other issues were also discussed.
"The Iranian party raised the issue of some renowned terrorist groups' free activities in France and said this is opposite to good will, opposite to bilateral relations and against France's international responsibilty to fight terrorism.
"Some double standards of European counties in dealing with terrorism is not acceptable, whatsoever.
He also said that Iran and France talked about the issues of Yemen, Syria, Iraq, and Afghanistan; both parties stressed the necessity of ceasefire in Yemen, fighting terrorism, and destabilizing factors in the region.
French Foreign Ministry political director Nicolas de Riviere arrived in Tehran on Wednesday, November 21 and held a meeting with Iranian deputy foreign minister.
According to Iran's Foreign Ministry statement, the Iranian and French sides reviewed the measures taken to minimalize the effects of the US sanctions on Iran, and other developments in the economy and trade sectors.