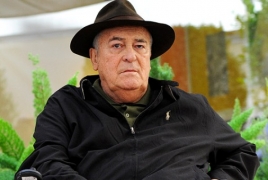 November 26, 2018 - 12:58 AMT
PanARMENIAN.Net - Bernardo Bertolucci, Italian director of films including "Last Tango in Pari" and "The Conformist", has died aged 77, according to Italian media reports.
Following reports of his death in Italian media, his publicist, Flavia Schiavi, confirmed he had died at 7am on Monday 26 November, from cancer, The Independent says.
Bertolucci was born in Parma, Italy, to a prosperous family – his father was a well-known poet and writer who also worked as a film critic. During his career, he managed to work in both Europe and Hollywood, despite tumultuous relationships with film studios.
His highly visual style and bold camera work influenced generations of filmmakers and often explored politics and sexuality via intensely personal storytelling.
"The Last Emperor", an adaptation of the autobiography of China's last imperial ruler, Pu Yi, was a hit at the 1987 Oscars and won every category in which it had been nominated. This included the awards for Best Picture and Best Director, making Bertolucci the first and only Italian to win the Best Director prize.
He caused controversy last year for revealing that crucial details of Last Tango's infamous butter rape scene involving Marlon Brando and Maria Schneider were withheld from the young actress until the actual shoot, with the intention to elicit a more outraged reaction from her. Bertolucci admitted he had been horrible to Schneider but denied regretting his actions.
Schneider, meanwhile, said years after making the film that she felt "a little raped, both by Marlon and by Bertolucci". She said had she known her rights as an actress, she would have called her agent or lawyer at the time of the incident.