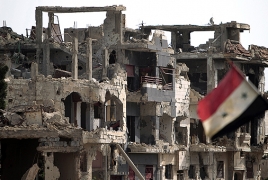 November 26, 2018 - 15:17 AMT
PanARMENIAN.Net - The Kurdish-led People's Protection Units (YPG) mourned the recent death of 14 fighters that were killed during an Islamic State offensive in the Deir ez-Zor Governorate, Al-Masdar new says.
In addition to the death of 14 fighters, the YPG also reported that several other combatants were wounded during their defense of the Deir ez-Zor Governorate's southeastern countryside.
While the YPG mourned the death of 14 of their fighters, this is not the total death toll for the U.S.-backed forces in southeastern Deir ez-Zor.
According to reports from Deir ez-Zor, the U.S.-backed forces suffered more than 50 killed in-action after a 48-hour-long battle with the Islamic State militants near the Iraqi border.
Since the IS offensive, the U.S.-backed forces have managed to retake all of the ground they lost to the militant group.