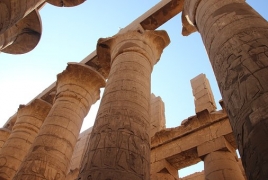 November 27, 2018 - 17:58 AMT
PanARMENIAN.Net - A 13th century tomb belonging to a priest and his wife was found in Luxor, Egypt, after five months of excavation work, Egypt's ministry of antiquities said, according to ABC News.
The tomb — colored with scenes depicting the owner with his family and found on the Nile River's West Bank — belonged to Thaw-Irkhet-If, the overseer of the mummification shrine at the ancient Egyptian Mut temple, also in Luxor, according to the ministry.
"Inside the tomb are colored scenes," Khaled el-Anani said during a press conference Saturday to announce the discovery. "What remains of them are in exceptional condition."
The sarcophagi of the priest and his wife were found in the tomb in addition to 1,000 funerary figurines known as Ushabti.
The discovery work was carried out by an Egyptian Supreme Council of Antiquities mission.
A separate discovery by a French-led mission from the French Institute for Eastern Archaeology and the University of Strasbourg was unveiled on the same day.
The mission unveiled an intact sarcophagus of a female mummy called Thuya.
Thuya's sarcophagus dates to the 18th dynasty — a period marked by some of the most well-known pharaohs such as Ramses II and Tutankhamun.
Archaeological discoveries are highly promoted by Egypt in an effort to boost the country's slowly-recovering tourism sector.