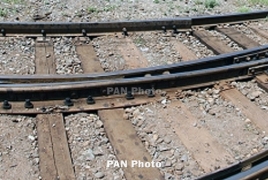 November 29, 2018 - 15:17 AMT
PanARMENIAN.Net - The UAE is a land of innovations and setting benchmark in the world. After Hyperloop and driverless flying cars, now there is another futuristic but fanciful mode of transport for residents to look forward to - an underwater rail network, Khaleej Times reports.
In near future, residents might be able to travel from Fujairah to Indian city of Mumbai by undersea rail network. Apart from transit of passengers, there will be exchange of goods in the form of freshwater flowing from India to the UAE and oil being exported back through pipeline, National Advisor Bureau Limited managing director and chief consultant Abdulla Alshehhi said during the UAE-India Conclave in Abu Dhabi.
Alshehhi is the founder of National Advisor Bureau Limited - a consultancy firm based in Masdar, the breeding ground for start-ups.
Alshehhi noted the floating underwater network will benefit the UAE, India and others in the region.
"This is a concept. We plan to connect Indian city of Mumbai with Fujairah through ultra-speed floating trains. The project aims to boost bilateral trade. There will be export of oil to India from Fujairah port and import of excess water from Narmada River, north of Mumbai. In addition, other GCC partners can also improve export and import," he told a gathering of businessmen and industry experts.
Alshehhi said the concept will take shape as there are many aspects that needed to be taken into consideration.
"We will do feasibility study of the project. This is concept but a cool project to look at," the author of 'Filling the Empty Quarter Book' said. The total rail network will be less than 2,000km.
Globally, there are many similar projects in the pipeline. China has plans to connect Russia, Canada and the US. Indian cities of Mumbai and Ahmedabad will be connected by high-speed rail corridor including undersea aspect by 2022.