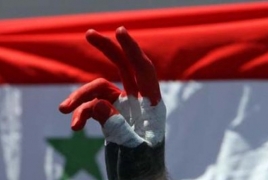 November 30, 2018 - 17:30 AMT
PanARMENIAN.Net - The Russian Reconciliation Center announced on Thursday, November 29 evening that they have attained information regarding a future chemical weapons attack by the militants of Hay'at Tahrir Al-Sham in northern Hama, Al-Masdar News reports.
"According to information received by the Russian Centre for Reconciliation of Opposing Sides from sources in the Idlib de-escalation zone, the Hayyat Tahrir al-Sham terrorists (Jabhat al-Nusra) are planning another provocation using poisonous substances," the statement began.
"Sixty canisters filled with unknown toxic chemical agent have been delivered from Jisr al-Shughur, Kafer-Zayta and Saraqib to the demilitarized area. Along with them there are Arabic-speaking chemical experts from one of the European countries," they continued.
The Russian Reconciliation Center said that the militants are preparing to attack the Syrian Christian city of Mhardeh, which is located near the Idlib buffer zone.
"According to available data, the prepared provocation with the use of poisonous substances will target the city of Mahardeh populated mainly by Christians in the province of Hama and the humanitarian corridor near Abu-al-Duhur in Idlib province," they added.