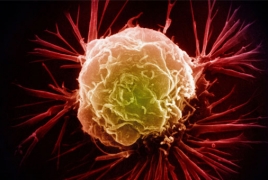 December 4, 2018 - 18:26 AMT
PanARMENIAN.Net - John White, a retired North Attleborough bioengineer, was diagnosed in early 2015 with aggressive prostate cancer. It had spread to his bladder and pelvic lymph nodes. It didn't respond to hormone therapy and chemotherapy. His oncologist feared White might have only a year to live.
Then scientists at Foundation Medicine, a Cambridge biotech, ran a new diagnostic test to sequence the DNA of cancer cells in his prostate gland, which had been surgically removed. The bad news was that he had a rare form of the disease, marked by an extraordinary number of genetic changes in the cancerous cells. The good news: The new test showed that he might respond to any of three new immunotherapy drugs, The Boston Globe reports.
In August 2016 White began taking one of those drugs, Keytruda, sold by Merck & Co., which had been approved to treat several forms of cancer, although not prostate tumors. It worked. His cancer soon began to shrink. Two years later there's no evidence of the disease. His oncologist wrote about the case in a medical journal and recently said his patient wouldn't be alive if Foundation's test hadn't so swiftly guided him to the right medicine.
"That's not hyperbole," said Dr. Paul Mathew, of Tufts Medical Center. "I cannot think of another strategy I would have had in hand to control the disease so it didn't take his life."
White, 63, was no less effusive about Foundation's test, which detects mutations in 324 genes in solid tumor samples and lists potential drugs to treat the cancer.
"It's been a lifesaver to me," he said. "I was only given months to live four years ago, and here I am still thriving."
The Food and Drug Administration approved the test, called FoundationOne CDx, last November, marking a breakthrough in the era of personalized cancer medicine.
The test yields a detailed report that lists the genomic features of tumors in patients with advanced cancer as well as medicines, approved or in clinical trials, that could treat it — all within about two weeks.
The FDA's approval has stoked growth at Foundation, which was started in 2010. FoundationOne CDx is the flagship of three genomic profiling tests developed by the company, and it's far and away the most widely used. Doctors have recommended Foundation's tests to patients 80,000 to 100,000 times this year, according to a Foundation spokeswoman, and FoundationOne CDx accounted for over three-quarters of them.
Over the past year, Foundation's work force has grown by about half, from about 600 employees to 900, according to Dr. Vincent Miller, its chief medical officer. Miller said he expected similar growth this coming year.