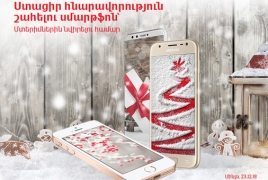 December 5, 2018 - 18:25 AMT
PanARMENIAN.Net - From December 1 till December 23, 2018, customerswho buy any smartphone at VivaCell-MTS service centers get a chance to participate in a daily prize draw of 19 iPhone SE 32 GB, 19 Honor 9 Lite or 19 Samsung Galaxy J3 (2017) smartphones.
To participate in the draw, one needs to obtain a smartphone from VivaCell-MTS service centers, either in cash or by installment. Upon the completion of the purchase, one needs to keep the cash receipt and (payment receipt) and the purchased smartphone.
The Lotteries for the smartphones will be implemented by means of software developed by "MTS Armenia" CJSC starting from December 3, 2018 till December 24, 2018. Lotteries for the smartphones, bought on Saturday or Sunday during the mentioned period, will be implemented on the following working day.
The publication of the results will be available online on "MTS Armenia" CJSC official webpage https://mts.am//en/lottery. The results will be publicized at 11:00 AM on each Lottery day, and the results of the Lottery for smartphones, bought on Saturday or Sunday - at 21:00 PM on the following working day.
To receive the prize, the winning participant shall visit MTS Armenia CJSC service center, from which the smartphone was purchased, within 7 calendar days starting from the day of publishing the results of each Lottery. The winning participant shall submit personal identification document (passport or identification card), the smartphone, the IMEI code of which was selected as winner during the Lottery, and the cash receipt (payment receipt) of the purchase.