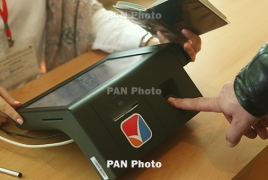 December 10, 2018 - 15:20 AMT
PanARMENIAN.Net - The early parliamentary elections in Armenia were held with respect for fundamental freedoms and enjoyed broad public trust that needs to be preserved through further electoral reforms, the OSCE international observers concluded in a preliminary statement released Monday, December 10.
Open political debate, including in the media, contributed to a vibrant campaign, although cases of inflammatory rhetoric online were of concern, the statement says.
The general absence of electoral malfeasance, including of vote buying and pressure on voters, allowed for genuine competition, the observers said. Despite the shortened timeframe, the elections were well administered, although the integrity of campaign finance was undermined by a lack of regulation, accountability and transparency.
The media environment is diverse and the freedom of expression, guaranteed by the Constitution, was respected, the statement said.
The statement also highlights that, while there was general confidence in the accuracy of voter lists, those declared incapacitated by courts are not entitled to vote, contrary to international standards on the political rights of persons with disabilities. Contrary to previous recommendations, the right to file election-related complaints is largely limited to party proxies and commission members.
The statement also notes that the prohibition of those holding multiple citizenship from being candidates is in contradiction to OSCE commitments and case law of the European Court of Human Rights.