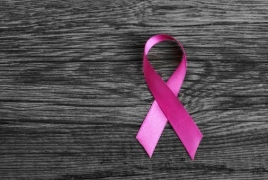 December 11, 2018 - 13:01 AMT
PanARMENIAN.Net - Compared with women who have never had children, women who have given birth may have an increased breast cancer risk that continues for up to 23 years after their most recent birth, CNN reports citing a new study published in the journal Annals of Internal Medicine on Monday, December 10.
"What we saw was this pattern where risk was highest about five years after birth, and then it gradually declined as time went on," said Hazel Nichols, an assistant professor of epidemiology at the University of North Carolina at Chapel Hill's Gillings School of Global Public Health, who was first author of the study.
Yet beyond those 23 years, the risk seems to change so that childbirth then appears to be protective against breast cancer, according to the study.
Still, experts warn that women should not worry and that the risk is small.
The study was conducted in women younger than 55, and "breast cancer risk is low in women of these ages in general," Nichols said.
"So even though risk is highest five years after birth, that still translates to a very small increase in the absolute number of women who are being diagnosed with breast cancer," she said.
"If we took the women in our study and started following them around age 40, for example, and over the next 10 years by about age 50, we would have had about 2.2% of women develop breast cancer in the group that had had a recent child, and we would have had about 1.9% in the women who had not had any children," she said. "These are very small differences in the absolute measure, but they're still important because they are in the opposite direction of what we know about these risk factors in older women."
Globally, breast cancer causes the greatest number of cancer-related deaths among women, according to the World Health Organization.
This year alone, it is estimated that 627,000 women died from breast cancer worldwide, which is about 15% of all cancer deaths among women, according to WHO.