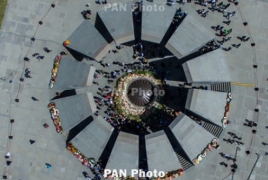 December 15, 2018 - 12:11 AMT
PanARMENIAN.Net - Senate Foreign Relations Committee Ranking Democrat Robert Menendez (D-NJ) committed to continue working with U.S. Ambassador to Armenia-designate Lynne Tracy and U.S. Ambassador to Azerbaijan-designate Earle Litzenberger on a range of concerns raised during their confirmation hearings, including honest U.S. affirmation of the Armenian Genocide and countering Azerbaijani threats to peace, reported the Armenian National Committee of America (ANCA).
In statements during the Committee's December 13th business meeting, which approved both nominees and set the stage for full Senate votes, Sen. Menendez noted his support for both candidates, but also shared his clear expectations.
"Throughout my time in the Senate, I have advocated for an honest accounting of the Armenian genocide. I believe we have a moral imperative to recognize the atrocities that were committed against the Armenian people," stated Sen. Menendez. He went on to note, "I support this nomination, but expect to work closely with Tracy on how she will encourage an honest acknowledgment of the Armenian Genocide, support Armenia's ongoing efforts to ensure accountable, citizen-responsive governance, and support efforts to reach a peaceful settlement of the Nagorno-Karabakh conflict."
During Tracy's December 4th confirmation hearing, Sen. Menendez offered a rapid-fire series of questions regarding the Armenian Genocide, and commenting on by Tracy's reticence to properly reference crime, stated: "This is the problem with nominees who come before us, and it's not you particularly. In fact, we have a historical reality: 1.5 million people were massacred. That's Genocide. And yet, we send an Ambassador to a country and have them go to a memorial of a holocaust of the Armenian people and they won't be able to call it genocide. It's pretty ironic. If we are not able to acknowledge the past, we are destined to relive it."
During the December 13th Committee vote, Senator Menendez also commended Armenia on its recent parliamentary elections. "Armenia and the Caucasus region will continue to be vital to regional and global security," stated Senator Menendez. "According to the OSCE, Armenia's elections over the weekend met international standards. I look forward to supporting the government's efforts to build strong democratic institutions, a vibrant Armenian economy, and oppose any efforts to violate Armenia's sovereignty."