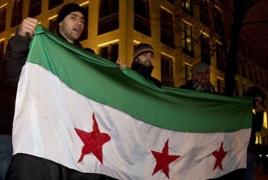 December 19, 2018 - 14:07 AMT
PanARMENIAN.Net - Top diplomats from Russia, Turkey and Iran have agreed to ensure that a 150-strong committee to draft a new Syrian constitution will convene for the first time early next year as they wrapped up a meeting in Geneva on Tuesday, December 18, RT reports.
"We have agreed to take efforts aimed at convening the first session of the Syrian constitution committee early next year. These steps will lead to the launch of a viable and lasting Syrian-owned, Syrian-led, UN-facilitated political process," Russian Foreign Minister Sergey Lavrov said in a statement following the meeting hosted by UN Special Envoy for Syria Staffan de Mistura.
The agreement, which could pave the way for political reconciliation in the war-ravaged country, was struck between Lavrov, Turkish Foreign Minister Mevlut Cavusoglu, and Iranian Foreign Minister Javad Zarif.
The creation of the 150-member body was first envisaged during a UN-backed summit in Sochi last January, which reinvigorated the stale Geneva peace process. However, efforts had been without a major breakthrough due the parties' inability to agree on the composition of the committee.
The body will consist of 50 representatives from the Syrian government, 50 representatives from the opposition, and the remaining 50 are intended to be "independent" delegates of civil society chosen by the UN.
The latter has become a bone of contention, with Damascus reportedly opposing some of the candidates.
The list has not been finalized as of yet, but the trio of Russia, Turkey and Iran is nearing a mutually acceptable solution, Cavusoglu said after the meeting.