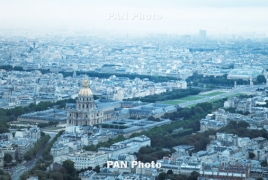 January 10, 2019 - 13:00 AMT
PanARMENIAN.Net - New sanctions of Europe on Iran will not affect the country's diplomatic mission, French Ministry for Europe and Foreign Affairs spokesperson said on Wednesday, January 9, according to IRNA.
The spokesperson told a press conference that the sanctions were imposed by the European Council on a state organ and two individuals.
The sanctions do not affect Iran's embassies and diplomatic missions in Europe, the spokesperson said.
"These measures only target the entity and individuals listed and do not affect the functioning of Iranian diplomatic missions whose property, including their bank accounts, benefit, under international law, from immunity preventing them in principle from being subject to implementing measures."
The EU on Tuesday added the names of two Iranian officials to the asset freeze list.
Earlier, Iranian Foreign Ministry had ruled out the claims raised against the Islamic Republic in Europe territory and said they were caused by efforts of Zionist regime intelligence service to harm Tehran-Brussels relations after the US' JCPOA exit.
Europeans are raising such allegations at a time when a number of the European states, including France, Denmark and the Netherlands, are hosting anti-Iranian terrorist groups like the Munafiqeen outfit, whose hands are stained with blood of thousands of Iranian citizens.