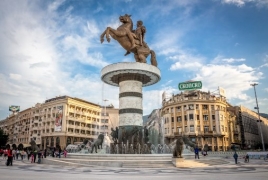 January 12, 2019 - 11:52 AMT
PanARMENIAN.Net - The Republic of Macedonia cleared its biggest hurdle to joining NATO and the European Union by passing an amendment to change its name and solve a decades-long dispute with Greece, Bloomberg reports.
The parliamentary vote shifts the advantage to the West in its struggle for influence with Cold War foe Russia over the Balkans, Europe's most volatile region. It also fulfills an agreement struck last year in which Greece pledged to lift its vetoes on the Balkan state's bids to join the world's largest trading bloc and the North Atlantic Treaty Organization.
Prime Minister Zoran Zaev won a two-thirds majority in the chamber Friday, January 11 to rename the ex-Yugoslav country to "The Republic of North Macedonia," parliament Speaker Talat Xhaferi said in Skopje. Now the baton passes to Athens, where Prime Minister Alexis Tsipras is facing resistance from nationalist opponents to his pledge to ratify the deal and sign off on Macedonia's NATO accession.
Read how Greece's government is wobbling over the vote on Macedonia
"This is a big deal, even more significant at a time when there's uncertainty in democracies in the West, in the future of Europe and in the role of the U.S.," Damon Wilson, executive vice president at the Atlantic Council in Washington, said by phone. "Tsipras has already taken the tough decisions in the political barbs by doing the agreement in the first place, so he's got every incentive to follow through."
Although his ruling coalition lacked sufficient votes, Zaev found backing among parties representing the country's ethnic-Albanian minority and independents who defected from the opposition VMRO-DPMNE party, which rejected the plan.
"We have taken ownership of our destiny," The Republic of Macedonia's foreign minister, Nikola Dimitrov, said after the vote. "We have proven that miracles are possible. We demonstrated that we are European, not only geographically, but also in terms of European values. I am proud to be on the right side of history."
VMRO-DPMNE boycotted the vote and President Gjorge Ivanov, their ally, has refused to sign off on the deal. Zaev has said that the president's green light isn't required, but in a sign that not all of his compatriots support the plan, several hundred people protested in front of parliament, Channel 5 reported.