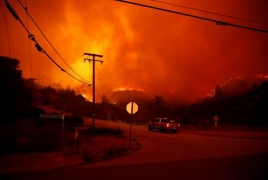 January 19, 2019 - 15:24 AMT
PanARMENIAN.Net - An explosion in central Mexico has killed at least 20 people and injured more than 70 after people carrying water jugs and fuel containers gathered at a pipeline gushing gasoline, The Guardian reports
Video footage showed people getting covered in petrol as they tried to fill their containers on Friday, January 18 in the town of Tlahuelipan, Hidalgo state, to the north of Mexico City. Screams could be heard later as a fireball shot to the sky. "Hit the ground!" one person yelled at those fleeing.
The origins of the explosion remain uncertain but it brought home the horrors of huachicol – stolen fuel, often siphoned from pipes belonging to the state-run oil company Pemex.
Hidalgo state governor Omar Fayad appealed to people via Twitter to avoid taking fuel, saying they were putting their lives and those of their families at risk. "What happened today in Tlahuelilpan should not be repeated," he said.
Mexico has cracked down on fuel thefts, which have mushroomed in recent years and spawned criminal gangs, whose clashes over huachicol – originally slang for poor-quality alcohol – have sent the homicide rate soaring in several states.
President Andrés Manuel López Obrador, who took office on an agenda of combating corruption and calming the country, ordered the crackdown on fuel theft barely a month after taking office, on 1 December.
He closed fuel pipelines running from refineries and deployed tanker trucks to supply petrol stations, arguing fuel thefts cost the country billions. He also sent the army to guard key Pemex installations, where he alleged insiders were working with fuel thieves.