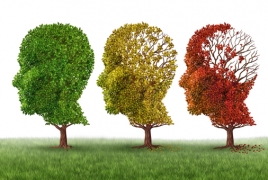 January 22, 2019 - 13:59 AMT
PanARMENIAN.Net - MGC Pharmaceuticals (MGC), an Australian ASX-listed biopharmaceutical firm, has reportedly announced that it has obtained the approval of Australia's Therapeutic Goods Administration to carry out Phase IIB clinical trial of the company's medical cannabis product, CogniCann, News.MarketSizeForecasters.com reports.
Reports cite, the medical cannabis product has been specifically developed for treating dementia as well as the loss of memory experienced by Alzheimer's patients. The approval would allow the company to begin the recruitment procedure to bring in patients for the 16-week long clinical trial conducted at the University of Notre Dame.
According to a report by Business News WA, the clinical trial would be conducted on a total of 50 individuals who are between the ages 65 and above. The trial would be assessing the effects of the CogniCann treatment on the symptoms of Alzheimer's and mild dementia as well as the improvement it brings to a patient's quality of life.
The CogniCann medical cannabis product is the company's second 'Good Manufacturing Practice (GMP)' certified investigative medical marijuana product that contains a specific ration of cannabidiol and tetrahydrocannabinol designed as a treatment for key symptoms of dementia.
Apart from the CogniCann approval the company also reached another important milestone after its manufacturing facility at Ljubljana, Slovenia became one of European Union's first to obtain permission to extract as well as develop Phytocannabinoid-active pharmaceutical ingredients of its own.
The approval from the Slovenian Ministry of Health allows the company to obtain a leg-up that would help them towards the full-integration for the production of the firm's own biopharmaceutical products.
According to reports, MGC is the first medical cannabis firm to obtain qualification from the European Medicines Agency (EMA) for all of its Phytomedicines.