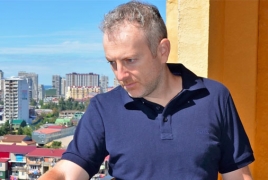 January 22, 2019 - 17:27 AMT
PanARMENIAN.Net - Russian-Israeli blogger Alexander Lapshin, who is visiting Armenia for the fourth time, has revealed his plans to write in his blog about the life of Armenian border villages that often come under fire from the Azerbaijani side.
"I want to rent a car, travel around the country, and see what I haven't seen yet," Lapshin said.
Also, the blogger said he has submitted a request to the press service of the Ministry of Defense to get permission to visit the border zone so that he can write about the life of people in the villages that are being bombarded by Azerbaijan.
In response to a clarifying question on what else he is planning to see and experience, Lapshin said he is planning to travel to the Syunik province, where has never been before, to Meghri and "ride along the most dangerous road in Armenia".
Lapshin also said that he has visited more than 140 countries so far, and that Armenia looks pretty interesting, given its nature, architecture, and the unusual and interesting people.
Lapshin was detained in Minsk, Belarus in 2016 and sent to Baku over a visit he took to Nagorno Karabakh earlier. He was then arrested, imprisoned, but was later extradited to Israel.
In November 2018, Russian blogger Ilya Varlamov was denied entry to Azerbaijan but was not offered any explanation over such a decision.