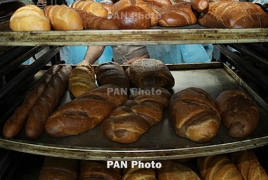 January 30, 2019 - 16:27 AMT
PanARMENIAN.Net - With the support of Business Armenia, Golden Bakery has established an eastern bread factory in Armenia.
The $225,000 foreign investment was made by Khalib Varha, a businessman from the United Arab Emirates.
Production started on Wednesday, January 30. Loshik (a type of flatbread), zatar, cheese, other types of bread, as well as Middle Eastern cookies will be baked and sent to trade points across Yerevan
"We will invest another $150,000 during the next 3 years. We also aim to export our bakery products to Georgia," noted Sevan Artin, the CEO of Golden Bakery.
During the investment process in Armenia, Golden Bakery collaborated with Rivera Capital Investment Company, which developed a business plan and a development strategy.
"In addition to making mutually beneficial deals, we are also interested in increasing the wave of investment in Armenia," added Garen Mikirditsian, the founder of Rivera Capital.