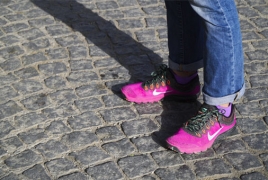 January 31, 2019 - 13:02 AMT
PanARMENIAN.Net - A new mobile app from augmented reality commerce company Wannaby, appropriately named Wanna Kicks, uses smartphone and tablet cameras to show users what shoes look like on their feet from various angles in real time, Mobile AR News reports.
The app includes 10 styles of sneakers from Nike, Adidas, New Balance, Puma, Under Armour, Vans, Asics, and Belarus-based Lidskie, with most styles offering customers two to four color options that users can swap out instantly while viewing the digital kicks. When customers settle on a shoe they like, the app helps them find it directly from the shoemaker's online store.
Wanna Kicks is now available for iPhones and iPads via the App Store, with an Android version arriving later in 2019.
Virtual try-on experiences are old hat for Wannaby, a company that has previously released apps for trying on nail polish and jewelry. Just as with the selfie effects made popular by Snapchat, Wannaby uses machine learning to recognize feet, overlay the 3D content, and track movement.
According to a company spokesperson, Wannaby uses original 3D design models provided by manufacturers supplemented with photogrammetry to give the models a more realistic texture. The company uses as many as 300 photos at various angles and lighting conditions per shoe and combines the photo imagery with the 3D model via specialized software.