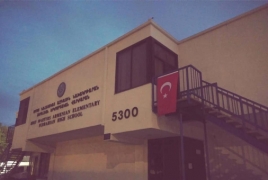 January 31, 2019 - 11:25 AMT
PanARMENIAN.Net - "It is the equivalent of putting a Nazi swastika on the side of a Jewish school." This is how Los Angeles City Councilmember Paul Koretz described the hanging of Turkish flags on Tuesday, January 29 morning on the premises of the Holy Martyrs Ferrahian High School in Encino and the AGBU Manoogian-Demirdjian School in Canoga Park, which law enforcement officials are calling a hate crime and a hate incident, Asbarez reports.
Koretz, whose district includes the Ferrahian school, was speaking at a press conference on Tuesday evening at the school's Avedissian Hall, organized by the Armenian Genocide Committee, a grouping of more than 18 community organizations and churches, which has been working together since 2015, primarily to organize the March for Justice for the Armenian Genocide protests at the Turkish Consulate on April 24.
More than 200 community activists, school faculty, staff and students, representatives of organizations and churches, as well as city and law enforcement officials came together Tuesday evening to be briefed on the incidents, which sent shockwaves through the community and created unease and concern on the campuses of two prominent Armenian schools in the Los Angeles area.
Officials of Ferrahian and Manoogian-Demirdjian schools arrived at the school premises early Tuesday morning to find the buildings covered with Turkish flags. The administrations at both schools immediately went into action to first protect the safety of the student bodies and also report the incidents, which, upon investigation, were being treated as hate crimes by the Los Angeles Police Department. Things were back to normal at both schools on Wednesday morning, as the community was attempting make sense of this brazen violation and attack.