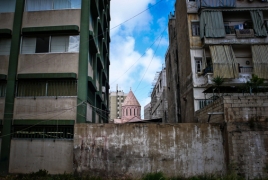 January 31, 2019 - 13:37 AMT
PanARMENIAN.Net - Fifty years ago, the Armenian district of Lebanon's capital was a commercial hub, with artisans making detailed carpets, meticulously designed furniture and elaborate jewelry. But the district of Bourj Hammoud is now in decline, with stores and factories closing due to poor government planning and a worsening economic situation, Al-Monitor says in an article.
One of the few recent success stories that has emerged from the district was that of Karen Chekerdjian, a Lebanese-Armenian designer who specializes in modern, abstract and elegant furniture. Born in Beirut, Chekerdjian left in 1997 to study in Italy at the Domus Academy, a private post-graduate design school in Milan. Returning to Lebanon in 2000, she had to acclimatize to a post-civil war Beirut.
"I realized only [upon my return] that there was no furniture industry," Chekerdjian told Al-Monitor. "I am the first generation of designers after the war. Everything that was related to furniture design had already collapsed because of the war, and also because there has never been a government [that] helped to develop [the] industry."
Bourj Hammoud, located on the eastern border of Beirut, once offered a safe haven for Armenians who fled ethnic cleansing under the Ottoman Empire. In the early 20th century, Bourj Hammoud quickly became one of the most densely populated areas in the Middle East, and it remains so until today. The diaspora brought with it great talent in craftsmanship, which thrived even during the Lebanese civil war (1975-1990).
Noubar Eskidjian, a Lebanese-Armenian brass monger, represents this tangible culture, working in a small brass factory in the heart of Bourj Hammoud. His father opened the shop in 1940, after Eskidjian's grandfather arrived in Beirut from Turkey. Eskidjian studied business and worked as a jeweler before taking over his father's shop in 1997 and learning his craft.
"The best of times was before 1980. I don't know [personally], but it was still very good before 1985," Eskidjian told Al-Monitor. "I wasn't there, but I read my father's diary and [the district] was working at a very high level. … I have two workers [currently], but my father had nine workers working every day, maybe 10-12 hours."
Eskidjian was one of the lucky few who could sustain his business. "My job is the same, because it is not something new. Everything I make is from the Renaissance, art deco and [art nouveau] — all timeless trends. Stainless steel, LED — that comes and goes. My job stays."
Eskidjian acknowledged that his story was not common. "I am lucky that I am working, but I have many friends who work in factories that are closing — its catastrophic," he said. "If the area is stable, our job will be stable as well."
The worsening economic situation also caused skepticism, and Chekerdjian concluded, "I have seen some artisans closing down their ateliers because they couldn't afford it anymore. I work less and less, just like everyone in Bourj Hammoud."