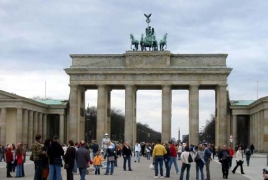 February 1, 2019 - 18:41 AMT
PanARMENIAN.Net - If the United States announces its withdrawal from the Intermediate-Range Nuclear Forces Treaty (INF Treaty), Germany will try to save the document in the next six months, German Chancellor Angela Merkel said at a joint press conference with Armenian Prime Minister Nikol Pashinyan on Friday, February 1, TASS reports.
"If it comes to an announcement today, then we will make every possible effort to use the six-month period to hold further talks," she said.
"It is clear to us that Russia has violated the Treaty. There needs to be dialogue. On our part, the German foreign minister and I will do everything to pave the way for talks within the six-month period," Merkel added.
According to her, NATO will thoroughly assess what the US withdrawal would mean. "It is important to keep the window for dialogue open," the German chancellor concluded.
The INF Treaty, signed by the Soviet Union and the United States on December 8, 1987, took effect on June 1, 1988. It applies to deployed and non-deployed ground-based missiles of intermediate range (1,000-5,000 kilometers) and shorter range (500-1,000 kilometers).
On October 20, 2018, US President Donald Trump said that Washington would pull out of the INF Treaty because Russia had allegedly violated it. Russian Deputy Foreign Minister Sergey Ryabkov said it was a dangerous move. Berlin and Beijing criticized Washington, while London voiced its support for the US, and NATO laid the blame for Trump's decision on Russia.